Tom Lamb
Retired Head Coach, Natick, MA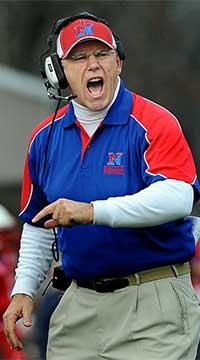 Coach Tom Lamb has always been a football coach – at least that's what it seems like. Few know of days without him on the sidelines directing players in the game. The 70-year old coach, retired from the famed perch at Natick HS, has coached at every level – from coaching the JVs at Adams High in western Massachusetts, where he'd attended, to Natick High's Super Bowl appearance in 2009, the year he retired.
It's been a true, legendary career including two stints at Natick, a couple of years at Northeastern U, and several years at Norwood High. Lambs teams did a lot of winning. Among his accomplishments are winning four MA Super Bowl titles, and coaching five Fluties over multiple generations. His record stands with the best of them: 248-65-2.
Lamb joined the Framingham State College staff in 1972, the year the college was starting its football program. Lamb was hired by Natick in 1975 and won two Super Bowls in the mid-'80s and another in 2006. He also won a Super Bowl at Norwood.
Lamb says of his 38 years as a coach, "Any person who makes a profession out of a hobby is a lucky person."
John Lee
Retired Head Coach, Walpole, MA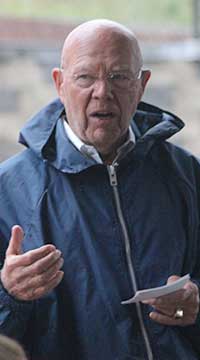 Coach John Lee was Head Football Coach at Walpole High School from 1968 through 1992 and during that time the Walpole Rebels won 12 Bay State Championships, appeared in 6 Super Bowls winning 4, had a win-loss record of 211 wins, 32 losses, and 7 ties that resulted in a 85.8 winning percentage ( the highest in the history of the state).  He was inducted into the MHSFCA hall of fame as well as the the University of Memphis hall of fame. He was selected to coach the Harry Aggannis and Shriners All Star games. Throughout his tenure at Walpole High School John was honored as "Coach of the Year" by the Boston Globe, Boston Herald, Patriot Ledger, Transcript Press, and the Eastern Massachusetts AthleticOfficials Association. Coach Lee also served as President of the Massachusetts Football Coaches Association, President of the Bay State League Football Association, and President of MA State All-Sports Coaches Association.